I'm giving props to Masta Ace.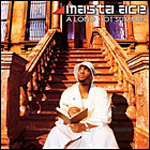 Since ScottyO burned me a copy of Masta Ace's
A Long Hot Summer,
it's been going almost non-stop on my ipod. His lyrical style is slow and smoothe and is devoid of the hip-hop phenomena called "hooks" or what I call "chanting." (Chanting is when a "rap" group finds a lyric and repeat it in unison a million times in a row.) Anyway, Masta Ace's album doesn't have it. What
Summer
does have is heart. He lays down soulful rhymes on ultra-smooth beats, without using pop-hop cliches. It's lyrics are also meaningful and darkly funny, which is a refreshing change from what we might be used to hearing on the hippety-hop stations. While super-stars like "Ludacris", "Little John" and the "Ying-Yang Twins" the deliver essentially meaningless, jibberish song after song, Masta lays down thoughtful narratives and offers advice and introspection on the industry.
excerpt from "The Ways"
Listen.
Life in rap is like a knife in the back...
This life attracts some of the trifleist cats...
Niggas getting deals with pipes and bats...
If that don't work, than they strike with gats...
I know a few dudes got label deals,
'cause they crew pack steel like Navy Seals.
A Long Hot Summer is in the same vein as the most soulful of rap. Think Tribe Called Quest meets Wu Tang meets Biggy. Check it out.